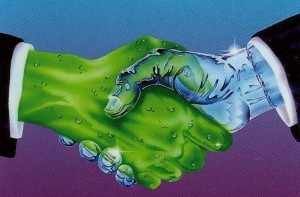 We are using the latest waterborne paint technology just like the vehicle manufacturers! Research indicates that man-made greenhouse gas emissions are starting to drastically influence the world's atmosphere in ways that affect all parts of the earth.  But did you know, by having your vehicle repaired at Miracle Workers Auto Collision Center you are helping the earth? At Miracle Workers Auto Collision Center we use the latest waterborne technology from Spies Hecker – a premium refinishing system from Europe.  When compared to conventional solvent borne basecoat systems, Spies Hecker waterborne products feature lower levels of solvent emissions, resulting in a reduction in air pollution.
As Europe's leading manufacturer of automotive refinishing products, Spies Hecker has over 125 years of experience.  Spies Hecker has combined its waterborne technology and expertise with the outstanding workmanship of select body shops, like Miracle Workers Auto Collision Center, to ensure that you receive a beautiful and long-lasting finish for your car.
Makes it easy to be green!